On-The-Go H2O
Sale price Price $19.99 Regular price $29.98 Unit price / per
Introducing The Water Bottle For Your Pet.
The On-The-Go H2O is designed to re-hydrate your pet on walks, hikes, and many more! The water bottle is travel-friendly: small enough to fit in your backpack or bag. Easy to use with a touch of a button, you can now dispense water to quench the thirst of your beloved pet on travels any time, anywhere. It is a MUST-HAVE for all pet owners out there.
Easy To Use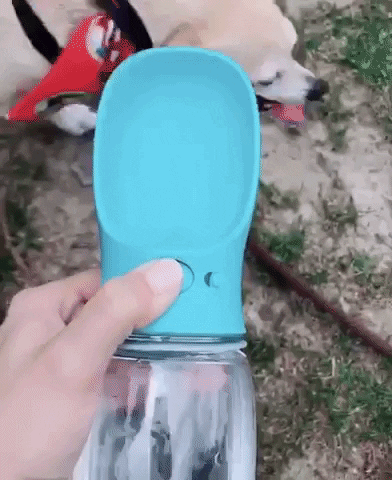 The dispenser is easy to operate. With a one hand, simply press the water button to dispense water, and release to stop. Extremely easy to hydrate your pet(s) with the On-The-Go H20 water bottle.
Anti-Leakage
The dispenser has Silicia Gel which seals the ring with a one key-lock design (as seen above), ensuring the bottle will be fully water-leak proof. You don't have to worry about getting wet or waste any water.
Durable & Safe
The portable pet water bottle is made of high quality food grade material. It is non-toxic and safe for water consumption. We make sure your pet will be completely safe when using our On-The-Go H2O water dispenser.
FEATURES
Portable - the dispenser is 3/8.2 inches or 75mm/208mm (width/height) perfect to fit in the palm of your hand, or bag.
Easy To Use - simply press on the water key to release water.
Leak-Proof - built with a one-key lock design that ensures no spillage when traveling or in use.
Durable & Safe - made with high quality food grade material, safe for water consumption.
Over 1,000+ Sold & Five Star Rating.
Click "Add To Cart" to buy your very own Z12 Projector today! Limited Stock Available.
1. 60-day return policy.
2. Track Your Order option available at all times.
3. Safe & secure payments.
4. 24/7 customer service support team ready to serve you.
5. 100% transparency and no hidden fees.
Got Questions Or Concerns? Talk to us at contact@happypicatso.com.